Evicted Entertainment
Oakdale landlord wants Clear Channel to clear out.
By Chris Harris- The Hartford Advocate
Published 06/20/02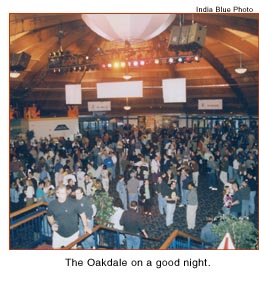 When it comes to live music in Connecticut, Clear Channel Entertainment -- which runs the state's two largest music venues, the ctnow.com Meadows Music Centre in Hartford and the careerbuilder.com Oakdale Theatre in Wallingford -- is a dominant force. It has an almost crippling stronghold on this highly lucrative market. But it's not as secure a stronghold as Clear Channel's executives would like. Clear Channel Entertainment could soon lose the control it has over the Oakdale Theatre, thanks to a lawsuit filed this winter by Robert Errato, a principal in Oakdale Development Limited Partnership, the company that claims to own the property. Errato is trying to evict Clear Channel from the premises.
The lawsuit was filed in February. According to legal documents obtained by the Advocate, Errato, who designed the building, was a Clear Channel executive from the inception of the lease agreement back in June of 1998, until October of 2001. He maintained an office at the site during this time.
According to the lawsuit, Errato was handed a letter on Oct. 18, 2001, informing him of his immediate termination. The letter, signed by Clear Channel Entertainment counsel Mickey Gayler, further advised Errato he was "not invited to be on our premises other than according to the rights granted to the landlord" under the lease agreement.
The lease reads: The "Landlord ... may ... enter the premises at any reasonable time, to ascertain whether Master Tenant has performed its obligations hereunder. Except in the event of an emergency, Landlord shall give Master Tenant reasonable advance notice," in letter form, "of such entry which shall be during normal business hours."
The Advocate was unable to reach Errato and neither his attorney or attorneys for Clear Channel would comment on why Errato was fired.
The locks to Errato's office were changed not long after he'd received the letter, he claims. Essentially, he was restricted from property he owns. By doing this, Clear Channel deprived Errato from accessing his office, inside of which were documents and valuable office equipment, the lawsuit alleges.
Beyond that, Errato says there were times when he was barred from the property in the months following his termination, when Clear Channel, threatened to "engage security" guards to keep him away from the building. This, according to the lawsuit, is a direct violation of the lease agreement Errato had entered into with Clear, a lease that runs through June of 2013.
The lawsuit claims Errato was planning an inspection of the building on Oct. 30 of last year, and as such, provided advanced notice to Clear Channel's authorized counsel of this intent -- a letter was delivered to counsel four days prior to the inspection date. Clear Channel counsel responded, with a letter of its own, stating that "the Landlord was not welcome on the premises." Errato tried again to inspect the building on Nov. 13; Again, counsel indicated Errato would be denied access to the grounds.
But according to papers filed on Clear Channel's behalf, the lease agreement was not breached, and Errato can not evict Clear Channel from the premises.
In fact, Clear Channel claims that it now owns part of the Oakdale Theatre. According to several motions filed in New Haven's Housing Court, Clear Channel agreed to loan Errato and his partners $11,350,000, to be used, in part, to pay off "all senior encumbrances on the real property," the motion claims.Clear Channel claims, in legal documents, that it entered into another agreement with Errato, a "Purchase and Sale Agreement." Through this agreement, Clear Channel would purchase the Oakdale land for $15,350,000 in 2013, as the lease expired; Subtract the $11,350,000 loan to Errato, and that's $4 million.
"In essence, most of the purchase price for the real property has already been paid to Oakdale Development Limited Partnership," reads an affidavit, signed by Peter A. Strauss, senior vice president and assistant general counsel for business and legal affairs for Clear Channel, "in the form of the loan proceeds of the $11,350,000 non-recourse mortgage loan."
Last week, a motion filed by the defense to transfer the case out of housing Court, over to the civil docket in Meriden's Superior Court was approved by a judge. This means what could've been a speedy, relatively painless process for Errato could now, hypothetically speaking, be dragged out for years.
Robert Barrack of Halloran and Sage LLP, the Hartford law firm representing the Oakdale Theatre Concerts, Inc., in this case, would not comment. Thomas Benneche, Errato's Simsbury attorney, likewise would not comment on the case.
Chris Harris can be reached at charris@hartfordadvocate.com.